Take Your Fitness To The Next Level While Having Fun & Building Community
Team Training at FITNESS PROJECT® is where GROUP fitness meets Personal Training to create a Small Group Training type of class or program that we refer to as TEAM TRAINING.
Training within a TEAM (together everyone achieves more) holds you accountable and makes it harder to make excuses. TEAM training brings YOU a fun and happy fitness atmosphere with a group of like-minded individuals while maintaining a 1-on-1 experience.
The best motivation comes from your friends, so why not train with them? Team Training enables you to quickly achieve your fitness goals with all the benefits of a dedicated "Results" coach and the camaraderie of other passionate individuals! Team Training coaches will give individual attention to each participant and create the best workout experience for everyone (at any level).
We want you to know you are not alone in your fitness journey. There are plenty of members just like you who want to lose weight, build muscle, and make friends along the way. That's why our TEAM Training program is one of the best programs around for ANYONE!
FITNESS PROJECT Team Training will push your fitness limits and take your workout to the next level. Instructed by each club's certified Coach, this is a community-based program that is fun and effective! Classes vary depending on what you are looking for but most start with a full warm up, exercise demonstrations of all movements, team building workouts, ending with a cool down. These circuit based full body workouts will leave members burning 500 to 1,000+ calories per session.
Top 6 Benefits Include:
1. MORE MOTIVATION
Catchy music, fast-paced exercises and an amazing coach with a ton of energy – If you have a hard time working out alone or staying motivated, Team Training classes are your best source of motivation. Having other people exercising alongside you can also give you the boost you need to keep moving – the sense of camaraderie and competition creates a spark!
2. STRUCTURE
When you're working out, consistency is key and a well-structured workout (and nutrition plan) is a must to see great results. Combining Team Training into your weekly workout routine will give you a great foundation and structure to meet (and exceed) all your fitness goals.
3. ACCOUNTABILITY
Your group training members will help hold you accountable for getting to the gym and putting 100% effort into every team workout. That sense of accountability is another motivating factor to get you in shape!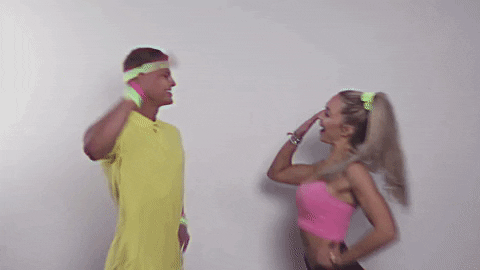 4. FUN
Team Training is FUN and there's a social aspect that many people prefer as opposed to a solo gym session. The variety of exercises mixed into your Team Training session and the camaraderie between your team members are excellent motivators!
5. SUPPORT
Both your coach and your fellow members are there to support and assist you throughout your entire sweat session. This support group can be just what you need to power through!
6. ALL THE BENEFITS OF A PERSONAL TRAINING SESSION WITHOUT THE HIGH PRICE
The average price for a personal training session is $40 to $70 per hour session (some up to $100+). To put that in a little perspective, at FITNESS PROJECT, you can enjoy unlimited Team Training and Studio Fitness Classes (and all other Gym Benefits) for as low as $50 per month with a Studio Membership. Learn more about Team Training and Studio Fitness, CLICK HERE!
Additional Benefits of FITNESS PROJECT® Team Training
See your heart rate and calorie burn displayed on a screen so you know exactly where you stand!
Receive personal attention from coaches as they check your form and guide you through the workout while keeping you motivated!
Utilize state of the art equipment and tools in rooms or areas designed to help you get the best workout possible.
Includes a mix of cardio and weights to help you break through plateaus.
All you have to do is show up and be ready to sweat!
Is Team Training for me?
Still asking yourself if Team Training is for you? Our Team Training is designed for anyone who is looking for an awesome workout that will push them past their plateaus, but you will especially enjoy it if you:
Like working out with other motivated individuals and building a community
Enjoy keeping your workouts fresh and fun
Have a competitive side to you
Want a little extra push
Want to see results fast
Love to get a great sweat
Interested in checking out the benefits for yourself?
Get your 1st Team Training (or Studio Fitness) Class for FREE