EARN ACTIVITY POINTS! WIN CASH & PRIZES!!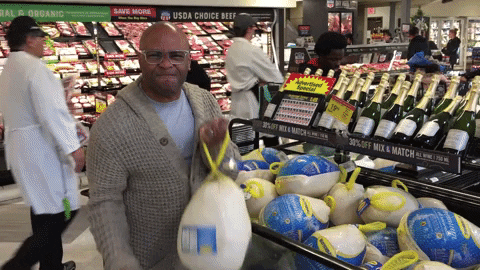 Don't want to feel like a stuffed turkey this holiday season? Navigate the biggest gorge-fest of the year with our 28-day "Fit For The Holidays" challenge. The holiday season is often a challenging time to maintain one's physical (and mental) health, and the effects of the pandemic have created even more obstacles. We're here to help you tackle these challenges head-on and take charge of your health and get FIT FOR THE HOLIDAYS!
Newbie? Seasoned pro? Somewhere in the middle? Don't worry, this Challenge is for EVERYONE!
No one likes a GRINCH during the holidays. Join the challenge and find your JOLLY side. Earn activity points through the "MyFitnessProject APP while shopping, dancing, and EXERCISING. Every week. Then check your ranking on the leaderboard in the club and on your APP. Receive suggested exercise activities, fitness tips, and updates weekly. The Top 3 leaders that get FIT FOR THE HOLIDAYS will WIN!
Not only will the Challenge help you get fit, lose weight, exceed your goals, and improve your overall health, it will have you kicking off 2022 being your absolute best!
CHALLENGE RUNS NOVEMBER 26th – DECEMBER 23rd, 2021!
---
WHAT YOU COULD WIN:
Cash Prizes:

1st Place: $100
2nd Place: $75
3rd Place: $50

Spotlight on Social & In Club With Bragging Rights
Winner Swag Bags
---
CHALLENGE DETAILS:
To Join, You Must Use The FP APP.
Earn activity points daily by logging daily exercises in the FP APP. Max of 800 points per day. Track workouts by manual entry, connected activity trackers, or xCapture feature in APP.

Track every workout
Top 3 leaders per club with the most activity points will win
Each club must have a minimum of 50 active participants to qualify

Grab your family and friends and hold each other accountable for a very fit holiday!
Push notifications will cover workouts, tips and leaderboard updates.
Winners must have a minimum of 6400 Activity Points


---

HOW TO SELECT WORKOUTS ON THE APP:

Go to "+" at the top of APP Homepage
Select Track Workout
Select Workout Date
Search for Daily Suggested Exercises and Hit "+" to Add to Workout
Select Start and Log Reps or Seconds.  Add Set, if needed
Complete Workout

---

We know that fitness goals are achieved best with consistency and community.  We also know that having a plan and goal keeps your workouts motivating and fun.  Make the most of this challenge and join it with a workout buddy!

Remember, the better you feel about yourself, the better you take care of yourself, and the healthier you are for the rest of your life.

---

Take Your Challenge To The Next Level If You're a Studio Member!

Don't Miss The Opportunity To Enjoy EXTRA Exclusive On-Demand Virtual Training w/ Trainer-Curated Workouts Added Weekly With The NEW FP Studio APP! (Available Only For Studio Members)
Our FP Studio APP is perfect for those on the go (It's Holiday Season)! Workout anywhere and anytime with trainers showing you proper form and pacing.
DOWNLOAD THE GENERAL FITNESS PROJECT APP
Not only for the Challenge, it's also the easiest way to check in your club, book your group classes, enjoy your rewards, refer your friends and stay updated about all promotions and events!
STUDIO MEMBER? ALSO DOWNLOAD THE FP STUDIO APP & ACTIVATE IT IN THE CLUB!