Enjoy Some Me-Time While They Enjoy Playtime
Not everyone can afford a personal trainer and a nanny to take care of their children while they exercise, but wouldn't that be nice? However, you don't have to be a celebrity or rich to enjoy a little me-time at your local gym. Beyond the health benefits for YOU, finding a gym near you that offers child care can offer a variety of benefits that are too good to pass up.

Young children are great all the time, right? They can also make it tricky for parents to prioritize their health and fitness. Between school activities, sports, play dates, and those never-ending grocery trips, squeezing in a workout can feel impossible at times. You may start to put your fitness needs on the backburner. You might be thinking you don't have the time or resources to work out while focusing on your little one. However, remember, If you are not fit, you will not be able to care for others around you.
Many gyms understand the struggle and that is why they offer their community of members childcare. Some take it to the next level with PLAY area with a variety of activities to keep your little one entertained while you focus on yourself. Many gyms offer childcare options for their members. While gyms with childcare may charge a small extra fee for the service, many parents find it well worth the cost.
Here are six (6) benefits to attending a gym that offers childcare:
1. Get The Exercise You Need To Be Your Best:
We did not know what real stress and exhaustion was until we had kids. We thought we did, but we didn't. Exercise is proven to be one of the best ways to reduce stress and increase energy, it even releases happy little endorphins into your body, and God knows we could all use a little more pep in our step to get through the day. The physical, mental, and emotional benefits of exercise really can't be overstated. While every person should incorporate regular exercise into their lives, parents can get even more out of working out. A kid-friendly gym near you can allow you to drop off your kids in the care center and allow you to have the time and space to get in your workout. By taking this time for yourself, you can guarantee that you'll stick to your exercise routine and enjoy all the additional mental and physical benefits exercise has to offer.
2. Give Yourself the Me-Time & Self-Care You Deserve: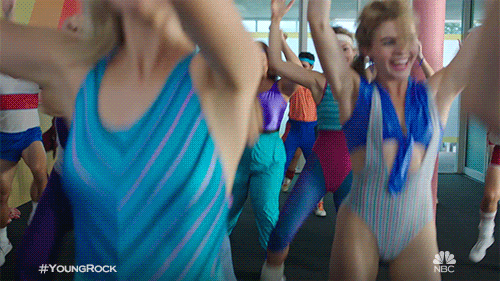 Parents deserve "me" time – just like anyone else. Bringing your young kids to a gym with childcare allows you to enjoy time alone and get your exercise in. You should absolutely not feel guilty about needing this time. Sometimes, getting out the door is half the battle. Once you get everyone dressed, packed up, and into the car, you are free from your house-prison. Stop at the drive-thru for a coffee, run some errands with the kiddos after your workout, and take advantage of being in the outside world. In fact, caring for yourself can help you refuel your energy, allowing you to be your best self for your children. Use your me-time as you choose! Maybe you take a Zumba class, try a great Studio Fitness class, or even just get some cardio in while catching up on your favorite Netflix show (might I suggest Dead To Me?)!
3. Socialize with Other Parents:
Being a parent can be a lonely existence. Head to the childcare center at the gym and you are surrounded by a group of women and parents going through exactly the same thing as you. Many of them have been at this parenting thing longer and can have great advice on everything from health tips and babysitters to ways to keep your kids more engaged with local activities. Other parents (especially moms – sorry dads) are the best resource for help and support! Meeting other parents at the gym is also a great way to make new friends. You can plan playdates with your kids and enjoy a little fun in and out of the gym!
4. Socialize Your Kids:
You aren't the only one who benefits when you join a gym with childcare. While you're spinning away in a Cycle class, your children can be working on their socialization skills. Each childcare setup may be different, but most include fun games and toys to keep your children entertained. PLAY areas in FITNESS PROJECT clubs may even have rock walls and playground mazes. Childcare employees usually help children engage in age-appropriate activities that can stimulate creativity, like arts and crafts. During this time, your children will learn to interact with children of other ages, backgrounds, and experiences. This can be a great way for your children to learn skills like sharing toys, working together, and making friends.
5. Save Money on Childcare:
Trust us, it's worth it! Not only does joining a gym help improve your health and well-being, but it also saves you money because you don't have to pay for both the gym membership and separate childcare for the kids. You will also save time because you won't have unnecessary trips to and from the sitter when you want to go get a workout completed. Some gyms, like FITNESS PROJECT, offer childcare services for free as part of certain membership packages and it's most likely well worth it. Others charge a small extra fee. Gyms charging for childcare services are almost always far less expensive than what a typical caregiver would ask for.
6. Kids Learn the Value of Health & Fitness:
Parents who take their children to the gym with them are exhibiting behavior that proves they value activities that improve their health and overall fitness. It's easy to explain the benefits of exercise to your kids or encourage them to participate in hobbies that encourage movement. However, it's more effective for your kids to see you physically demonstrating the healthy habits you encourage. Your kids will also see you set goals related to your health. They'll learn more about setting realistic goals and the amount of work it takes to reach a goal.

How To Find a Gym with Childcare
Interested in joining a gym that has daycare? Take a look at gyms in your area and search their websites. Most gyms that allow kids will mention their childcare services on their website. Before you purchase a membership, make sure you understand how their childcare setup works.
Here are a few questions to consider:
Is childcare included in your membership or require an extra fee?
What are the hours? Not every club has childcare during all open hours, so check to ensure they work with your schedule.
Do you need to book in advance?
Are there time limitations per day?
What is the age range of children they will take?
Are there special considerations for children that have special needs?
Let FITNESS PROJECT Take Care Of The Kids While YOU Take Care Of YOUR Fitness! Looking for a Little Me-Time? Let Us Keep the Kids Busy and Happy with Activities, Games, and Crafts! Our PLAY Kids Area offers a safe and fun environment for your kids to engage in playful supervised activities.
PLAY Hours of Operation:
Monday – Friday: 8am – 1pm & 4pm – 8:30pm
Saturday: 8am – 1pm
Find a Club Near YOU, CLICK HERE!