Sweat your way to a peaceful mind
Most people start exercising because they know it has a positive effect on their body. They feel motivated to change their appearance, so they set goals to lose weight or gain muscle and then track their progress accordingly.
But did you know that exercising your body also reaps big rewards for your mind, too? From improving your sleep to decreasing your stress, there is a long list of mental health benefits that come from moving your body.
…And no, you don't need to train like an Olympian to experience these benefits. Even adding in an extra 15 minutes of movement to your day will make a positive impact on your mind.
Here are five of the most important mental health benefits of exercise:
1. It reduces stress and anxiety
We often hear people say that a good workout provides a sense of "release". If you're feeling tense and your worries are playing on repeat, exercise helps to break that cycle of thought. It releases endorphins in your brain (the "feel-good" chemicals) and relaxes your muscles so you can feel calm, safe and clear-minded.
2. Exercise helps build resilience
Working out takes effort. It challenges you to push through discomfort, which tells your mind that you are capable of overcoming obstacles. The more you exercise, the more chances you give yourself to strengthen that resilience, which leaves you feeling more confident overall.
3. It improves your focus
Physical activity gives your brain a boost of dopamine, norepinephrine and serotonin — natural chemicals that affect your ability to concentrate. When you exercise, your mind might wander but it helps you learn how to focus on the task at hand (i.e. it's difficult to obsess over your to-do list when you have heavy dumbbells in hand and 30 seconds on the clock!)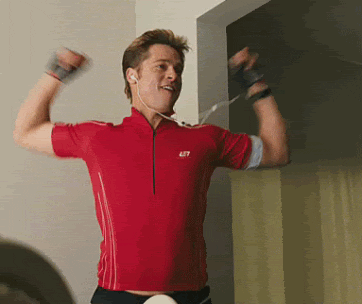 4. It's an immediate mood boost
The only workout you'll regret is the one you didn't do! That's because exercising will always leave you feeling better than you felt before. Even in small doses (like a 15 minute walk), you'll feel uplifted, accomplished and revitalized. Especially when you're busy, it can feel counterintuitive to go exercise, but it's often the easiest way to 'buy more time' because it gives you a brighter outlook on your workload when you return to it. You'll spend less time worrying about minutiae and more quality time getting the important things completed.
5. Working out builds self-worth
You can have trainers guide you, but no one can do the work for you. It's up to you to go through the movement, which requires some level of belief that you're worthy of that effort. For many of us, this is subconscious at first, but as you push for more challenges you start relying on your own self-esteem to get you through. You might even develop mantras like, "I am strong. I am powerful. I am capable." to repeat to yourself when you feel like you want to quit. Over time, you become what you think and shape your identity as someone with deep self-worth.
Now you might be wondering, how should I exercise to achieve these mental health benefits? Should I do cardio or weightlifting? Sports or group fitness classes?
Our best advice is to do whichever activity (or activities) you enjoy most. All of these ways of working out will improve your mental health. Aim to make exercise a daily habit, switching it up however you'd like.
With that said, if you have a specific physical goal in mind (like weight loss), choosing the right types of exercise does matter. At Fitness Project you can try a variety of workout types with our GROUP Classes and then pick your favorites.
Remember, you can change the format as you evolve, but all in all, exercise is a practice — an ongoing activity for your whole life. You don't show up once and get to enjoy all the benefits.
Instead, you make it a habit and think of it as an investment in your health and happiness.
Need help getting started? Book a free consultation with one of our trainers, experience one of our FREE Fitness Clinics, or sign up for your first week of unlimited gym access on us!